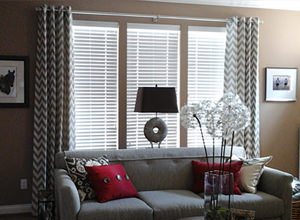 When you remodel a room of your home or build a new residence, you choose the flooring carefully and work with the designer and contractor to create just the right appearance, using color, furniture style, and so on. The drapes you use for your windows should be selected and created with just as much care and attention to detail, so that the atmosphere of the space is perfect. Charlotte's Custom Draperies can create the custom drapes and window treatments to turn your vision into reality.
The rooms of your home should reflect the personality of the people living there. Every part of the design, including custom drapes, should work towards this. Choosing the right custom drapes can be daunting, from finding the right measurements to deciding on a style and color palette that ties the room together. Luckily, Charlotte's Custom Draperies in St. Louis can help you with all of that and more! Contact us today at 636-467-8295.
Why Choose Us for Your St. Louis Custom Drapes & More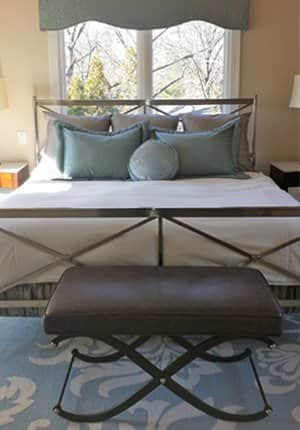 We take pride in our personal touch, our professionalism, and the elegance of our creations. Since 1972, Charlotte's Custom Draperies has focused on creating the finest custom drapes and sewn products for the home for clients throughout the greater St. Louis area including Kirkwood, Webster Groves, Town and Country, Ladue, Frontenac, Huntleigh, Chesterfield, Wildwood, Manchester, and Des Peres. While custom drapes make up a majority of our business, we also offer:
Custom Window Treatments
Custom Bedding
Custom Upholstery
Custom Blinds & Shades
Ceiling & Wall Coverings
Interior Design Consultation
Charlotte's Custom Draperies is a locally-owned company that fabricates window treatments, bedding, and other quality items in our own local workshop. What sets us apart is our owner and designer, Paulette De Clue, who consults personally with each client and is present for all installations. She is also directly involved in the creation of all of our custom drapes, to ensure the superior quality of all our custom window treatments.
Transform Your Home with Beautiful Custom Drapes and Window Treatments
Windows are natural focal points of any room, as they let light, sound, natural views, and fresh air into the home. With that in mind, you can easily use custom drapes to make a bold statement or subtly tie a room together. Two essential elements set our custom drapes apart from store-bought counterparts:
Fullness: Our custom drapes are often twice as full much as ready-made fabric curtains
Stitching & Hemming: Which is of higher quality while not being noticeable in the final product
At Charlotte's Custom Draperies in St. Louis, we take your project from idea through the custom fabrication to final installation. Through every step in the process, we maintain a high attention to detail and focus on delivering the best products and service. Call us at (636) 467-8295 to share your vision and talk with us about your ideas for your custom draperies or interior design project.