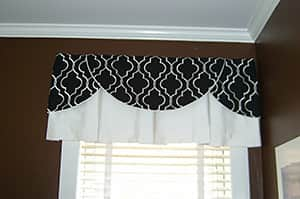 Well-designed window treatments and custom draperies are essential to the appearance and atmosphere of your home. Let us help you combine unmatched quality with outstanding style for a look you will be proud to show.
No matter what you are looking for, we can help you bring your unique stylistic vision to life. From initial interior design consultation, to fabric selection and product creation, to installation and completion of your project, Charlotte's Custom Draperies will get the job done. We invite you to contact us online or by phone to learn more about the special services we offer at Charlotte's Custom Draperies.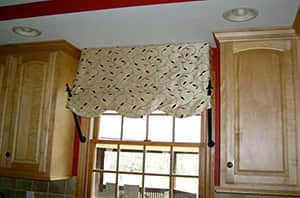 Contact Charlotte's Custom Draperies
Office: 636-467-8295
Cell: 573-366-3362
Email: [email protected]
Learn More About Our Custom Draperies and Services in St. Louis
For clients throughout the St. Louis area including Kirkwood, Webster Groves, Town and Country, Ladue, Frontenac, Huntleigh, Chesterfield, Wildwood, Manchester, and Des Peres , we will be happy to talk with you about any of our array of services:
Custom draperies
Custom blinds
Custom shades
Custom bedding
Color consultation
Repurposing
Designing Your Custom Draperies: A Proven Process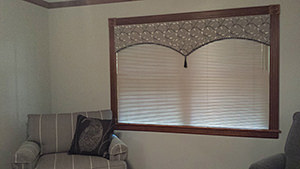 Redecorating a space or a whole house can be a daunting task for a homeowner. At Charlotte's Custom Draperies, we try to make your interior design project as stress-free as possible. Here is what you can expect when you reach out to us about your project, as well as some information on what we will need to give you the best service possible.
Step 1: Get in touch with Charlotte's Custom Draperies to start the conversation about your project and schedule an in-home consultation. Our owner and designer, Paulette De Clue, will be personally involved in your project from start to finish. She will listen to your questions and your ideas, to assist you with an overall plan for your project.
Step 2: If possible, we ask that you send us photos of the room you plan to redesign or redecorate, before we visit your home. This will allow us to begin the creative process.
Step 3: When we come to view your room, we will work with you to select a style, along with the perfect fabrics and hardware.
Step 4: Once you have made your selections, we can provide an estimate and ask for a deposit so that we can place your project in our book.
Step 5: After the custom draperies are designed, we will install it in your home.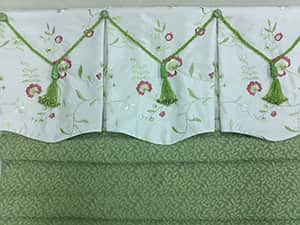 At Charlotte's Custom Draperies, we work with you every step of the way through to professional installation. As long as we have been in the business of providing professional service in the window-treatment and design industry, Charlotte's Custom Draperies has worked with one purpose: To deliver elegance with outstanding value. Our past and current clients have helped us grow. Providing only the most professional, efficient service means St. Louis area customers return to us again and again.
To see examples of our past work and window treatment design projects in the St. Louis area, you can view our portfolio of window treatment ideas. If you like what you see, then reach out to us via phone or email. We look forward to hearing from you!