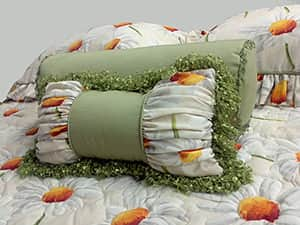 Of all the rooms in your home, the bedroom should be a place of relaxation, a place of refuge, a place for rest. In keeping with this idea, we want to help you create the perfect look and atmosphere, whether it is for your master bedroom, a guest room, or a child's room. We provide custom bedding design in St. Louis including quilting, pillow shams, headboards, bed skirts, and accent pillows.
If you are planning a makeover for this important room, get in touch with Charlotte's Custom Draperies in St. Louis and let us help with the overall design. You may have thought about paint color for the walls, the flooring style/material, and the furnishings, but it is also very important to include custom bedding in your plan so that the colors and patterns fit well with the rest of the design.
Choosing Handmade Custom Bedding for Your Home
While you can certainly find many options in premade bedroom and comforter sets that you can buy at the store, nothing compares to the variety and options you will have with custom bedding. Your fabric, material, and style, choices are nearly limitless. Additionally, the quality of stitching and fabrication that you will find in custom bedding is unmatched.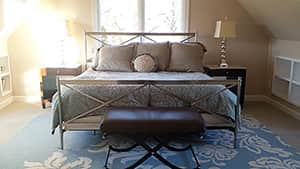 Before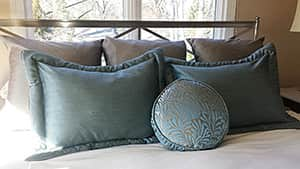 After
As is the case with all of our custom window treatments, at Charlotte's Custom Draperies we take your plan for custom bedding from the initial idea, through design and consultation, to fabrication in our local workroom. When the items are complete, you can be quite sure that they will be an integral part of your bedroom's look and feel.
Custom Bedding: Accents
In addition to choosing the custom fabric and style for your duvet or comforter and pillow shams, you may also want to consider the addition of other elements such as accent pillows, bed skirts, and more. These elements can complement your bedding with a similar fabric and color or can provide some gentle contrast with just the right use of color or texture. Another accent piece that can become a focal point of any bedding is a custom fabric headboard. These smaller items are also a great way to give the room a new look, while keeping your budget under control.
Learn More About Our Custom Bedding Design in St. Louis
If you are interested in learning more about our custom bedding options or to talk with us about your ideas for custom bedding for your home, contact us at Charlotte's Custom Draperies today. In the St. Louis area, you can call us at (636) 467-8295 or contact us online to see what a difference our custom bedding and interior design experience can make in bringing your stylistic vision to life.