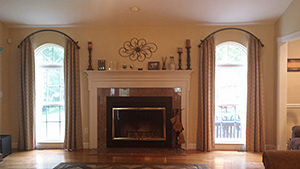 Unlike a custom drapery, curtains and window treatments purchased ready-made are constructed from fabric panels of standard sizes and are meant to sell in large numbers at department and variety stores. While this option is cost effective, it does little to reflect the good taste of the homeowner and rarely contributes to superior design in a room.
Ready-made is not what Charlotte's Custom Draperies is about. We take great pride in providing custom drapery services to the greater St. Louis area, including Kirkwood, Webster Groves, Town and Country, Ladue, and many other great communities with custom-designed and carefully fabricated draperies, top treatments, bedding, and other quality items. Contact us today to learn more about our custom draperies!
Paulette De Clue: Owner and Custom Drapery Designer
Paulette De Clue, our owner and designer, holds a degree in Textile and Apparel Management from the University of Missouri-Columbia, with a specialty in fashion design. She has continued her study in interior design and has worked in this special industry since 1989. Clients of Charlotte's Custom Draperies receive Paulette's personal attention because she is involved in all consultations and in the fabrication process. In addition, she is present for every installation of custom drapery and all other items.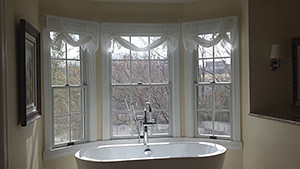 Charlotte's Custom Draperies has been serving the St. Louis area since 1972 and many of our clients have worked exclusively with Paulette since she took over ownership of the company in 2002. Some of our custom drapery clients are even working with us on their second or third home.
Clients come from many locations throughout the St. Louis area, including Frontenac, Huntleigh, Chesterfield, Wildwood, Manchester, and Des Peres and consistently give Paulette and our company outstanding feedback.
Our Focus: Custom Drapery & Window Treatments
We create all of our custom products in our own local workroom, with each project overseen by Paulette herself. Our list of special items and services includes:
Custom Window Treatment & Draperies
Custom Valances & Top Treatments
Fabric Shades
Pillows
Window Blinds & Shades (including hard treatments such as Hunter Douglas and Graeber)
Color Consultation and Paint Selection
Design Consultation
Furniture Placement
Repurposing of Furniture and Accessories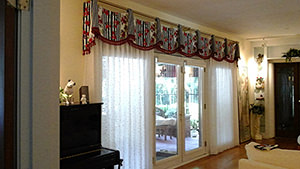 Our mission is to assist you with choosing the perfect custom drapery for your home, and help you find creative and unique solutions to design problems. We take pride in continuing to "accurately and promptly" provide "a unique product that reflects personal style and needs" at a reasonable price (as one client put it so nicely). Charlotte's Custom Draperies and Paulette De Clue are on Angie's List, with a consistent A rating, and we have been nominated for the Award of Happiness due to the positive experiences and feedback from many clients.
Learn More About Our Custom Drapery in St. Louis
If you are considering custom drapery and feel you do not know where to begin, make the best choice and contact an experienced designer who specializes in creating just what you need. Custom drapery and other fine products can add a touch of class to your well-designed and appointed St. Louis home. Our experience and professional methods will certainly help you create a look and feel that visitors will remember and that you can be proud of. Contact us at (636) 467-8295 to learn more about our custom draperies and window treatment design services. We would love to hear from you!