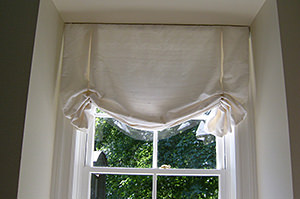 For an empire that disappeared centuries ago, the Roman Empire has left a lasting impression on the world in several distinct areas. Influences in the fields of architecture and interior design are just some of the many examples. One specific design element that is still popular today is the custom Roman shade. This specific type of window covering is believed to have gotten its start when residents of Rome put dampened fabric over the open windows of the buildings to keep dust and heat out of the interior rooms.
Through the centuries, Roman shades have become a staple in custom window treatment design, though they differ a bit from their rather coarse beginnings. However, they do perform the same task as they did many years ago and are quite effective at keeping excess sunlight out of a room. Contact Charlotte's Custom Draperies in St. Louis today to learn more about how custom Roman shades can add the perfect touch to your room.
What are Custom Roman Shades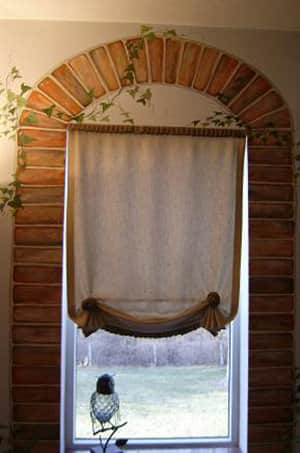 Perhaps the most distinctive feature of the custom Roman shade is the way the material reacts when the shade is opened or closed. Typically, this type of shade is operated by a cord similar to that used to open and close blinds. The shade can be opened partially or fully, depending on the amount of light desired. The way this cord is designed and attached allows the fabric to be raised in a "fold" pattern and lowered to be relatively smooth in appearance.
A number of terms have been applied to this design to distinguish one style of custom Roman shades from another. For example:
Relaxed – Primary material is fabric, so it raises in soft folds
Flat – Similar to relaxed but hangs with a "stiffer" appearance
Hobbled – Distinct segments are visible even when the shade is closed completely
Faux – As the name implies, this is not really a true Roman shade but gives that appearance
One element that makes custom Roman shades stand out is the depth or body they provide, which is quite different from a stationary, flat piece of fabric. As a result, Roman shades can create an elegant and distinct style.
Benefits of Custom Roman Shades
The primary benefit of custom Roman shades comes from the direct sunlight they block, keeping the room several degrees cooler. However, there are certainly a few more factors to mention in this discussion. As with all quality custom window treatments, the Roman shade can and should be a key element in the overall appearance and design of the room.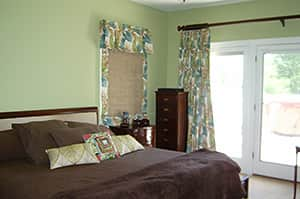 Because they can be made of almost any fabric, custom Roman shades offer almost limitless color options. Heavier fabrics provide a fuller look while lighter fabrics can allow some light in while providing privacy. With custom Roman shades, a favorite pattern can become the focal point of the room.
With the assistance of Charlotte's Custom Draperies in St. Louis you can take this age-old concept and apply it in an elegant new way in your home.
Call us today at (636) 467-8295 to begin the design process or to learn more.