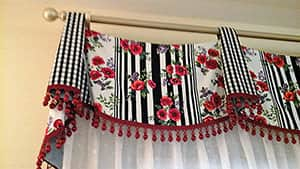 Before you select a definite style or design for your custom window covering, it may be best to give some thought to an often-overlooked window treatment option, custom valances. While there are many specific styles available, this is a common types of top dressing for windows that is designed to cover just the top portion of a window to provide a finished look and style. A basic understanding of this term and the types of custom valances available will go a long way toward helping you find the perfect window treatment for your home.
For more about custom valances and to design a style that is right for your St. Louis home, contact us today at (636) 467-8295.
What are Custom Valances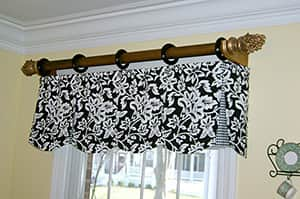 Custom valances are a type of window treatment that appear at the uppermost part of the window. They can be used alone, with blinds or shades, or they can be used in combination with draperies or curtains. For example, valances are often paired with soft window treatments such as drapes or curtains to add a formal look to any room. Homeowners and designers often choose this touch for the purpose of hiding the hardware as well as giving the window a finished and unique look.
A few specific styles of custom valances include:
Swag – Draping fabric across the top of the window to form a valance
Balloon – Using a lighter material that balloons out to give the appearance of fullness
Box Pleated – Inverted box pleats spaced across the width of the valance
Shaped – Custom shaped for a unique look, often embellished with piping or fringe
Cornice– A style similar to the valance but the fabric is attached over a hard wooden box, giving the valance more structure
Contact us at Charlotte's Custom Draperies to learn more about these types of custom valances and how they can bring out the very best in your room.
Benefits & Design of Custom Valances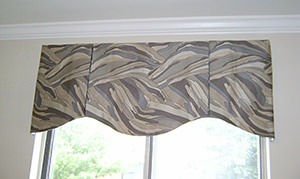 The selection of pattern and color for your custom valance should be given as much attention as any other piece of interior decorating. This is especially true when you consider the correct pairing of fashion and function. While the valance and cornice have a definite task of covering hardware and keeping out sunlight, it can also set the atmosphere for a room, from simple to formal.
A custom valance or cornice of almost any design can add a lot of style without costing a lot. For example, a custom valance is a great place to add a complementary or contrasting color to your room and window treatments. Because your windows are such strong natural focal points, you can add a touch of elegance without taking up a big piece of your budget.
Learn More About Custom Valances
In the Greater St. Louis area, contact us at Charlotte's Custom Draperies today to learn more about custom draperies, custom valances, and more. We will give you professional advice on how to use these design elements to bring your room to life and capture the exact style and feel you have been wanting. You can reach us at 636-467-8295 or complete our online contact form to schedule a free consultation.