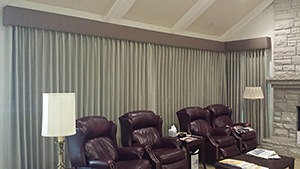 One of the key elements in choosing custom window blinds or shades for your home involves focusing on your personal style. At Charlotte's Custom Draperies, we can help you find that style and select the perfect window treatments to let it shine. Custom window blinds and shades are one of our specialties. We offer a wide range of fabric styles, as well as with hard window treatments from such quality suppliers as Hunter Douglas, Graeber, and Kirsch.
Using our years of experience, we will consult with you on the types of material as well as the style that suits your personal tastes and the design of your home. Some of the various types of custom window blinds available include.
Venetian Blinds – Venetian blinds are the most basic form of window covering that many think of. While this style has been popular for many years, newer blinds have changed a bit from the earliest versions. Most of the contemporary blinds of this type have wider slats than Venetian blinds from years ago.
Roman Shades – Roman shades are also a popular choice of custom window blinds. This shade design is raised by cords attached to the bottom, so that the fabric falls in horizontal folds when lifted to allow light in. When they are lowered, Roman shades lie flat. Choice of fabric can be very important when considering this decorative type of blind.
Roller Shades – Roller shades have become more popular in recent years, with excellent control methods that include motorized movement as well as cordless operation. Choose from fabrics that filter the light coming into the room or black out almost all of it.
Vertical Blinds – You may also want to consider vertical blinds for specific applications including in front of large picture windows and sliding doors.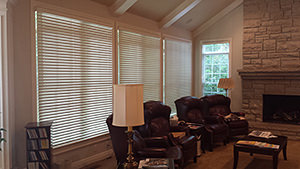 Before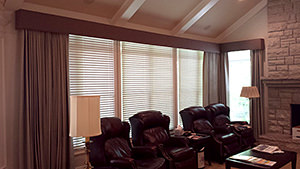 After
To learn more about the different styles of custom window blinds and shades available, contact an expert at Charlotte's Custom Draperies today to learn more!
Custom Window Blinds & Shades with a Personal Touch
At Charlotte's Custom Draperies, we specialize in providing personal service to customers throughout the St. Louis area, including in Kirkwood, Webster Groves, Town and Country, Ladue, Frontenac, Huntleigh, Chesterfield, Wildwood, Manchester, Des Peres, and other communities. We will consult with you about your remodeling or redesign project, help you choose fabrics and colors, and then fabricate shades in our own workshop. Every step of the process takes place under the watchful eye of Paulette De Clue, who has owned Charlotte's Custom Draperies since 2002.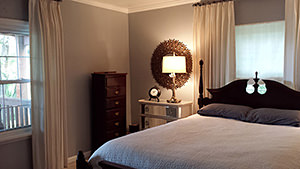 Paulette is personally involved in all consultations, fabrication of your custom items, and in the final installation, ensuring that you will receive the highest-quality service and finished items. We work with you to make your custom window shades and blinds fit perfectly and elegantly with other design elements. With Charlotte's Custom Draperies, you can also be sure that we will always be personable and approachable when you have questions or ideas. Our recommendations will be based not only on our long experience but also on your unique vision.
Contact Us for Custom Window Shades & Blinds in St. Louis
When you begin planning for the addition of custom window blinds or shades in one or more rooms of your home, be sure to contact us so we can help you achieve the perfect look. Our suggestions may include choosing a particular type of custom window blind or a specific fabric, depending on how much privacy you want in the room or how much light control you might need.
Whether it is custom draperies or shades, we take our business seriously and make sure that you make the perfect selection.