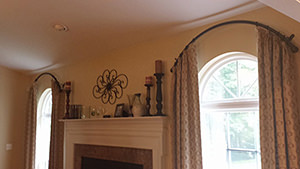 Covering your windows should be more than just choosing curtains that help you control the natural light in the room, and it should certainly be more than giving you privacy. No matter what type of covering you choose, it will be just as important to the overall feel and appearance of the room as any other piece of furniture or design element. Because of this importance, you may want to consider custom window coverings instead of store-bought options. A custom option will capture your unique style and taste, and make your house feel more like your home.
A few custom window covering options include:
Curtains
Draperies
Shades
Blinds
Valances
If you are in the St. Louis area and are interested in custom window coverings, but do not know where to start, give Charlotte's Custom Draperies a call at (636) 467-8295 to speak to our experts and begin designing your custom draperies or window treatments.
Buy from the Store or Design Custom Window Coverings?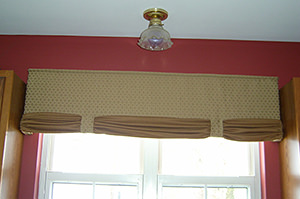 There are plenty of satisfactory options in ready-made window coverings, but this path does come with a few important limitations. In simple terms, you will have to adapt these window coverings to your space, making them fit as well as you can. With custom window coverings, on the other hand, the options are many, allowing you to work with a trusted professional to choose material and to select from one of many patterns.
Your color options will expand as well, because there are few limits as to what you can select. In addition, fabrication is made-to-measure, so you will know from the start that the final product will work perfectly in your windows.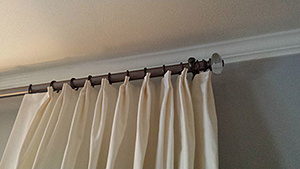 As your design partner, we will work with you to consider your idea and vision for the room and to help you make some basic selections such as type of material, main color, and general function of your custom window coverings. You will be able to choose from a list of styles that includes draperies, fabric shades or Roman shades, and top treaments to name a few of the major categories. Options for curtain headings include eyelets, French pleats (also called pinch pleats), Ripple fold, and more. This choice alone will be a key element in the finished look of your room and window coverings.
Other options that you will need to consider include the type of lining used for your draperies or the use of sheers for soft light while maintaining privacy. Some homeowners choose the layered option including a carefully selected pairing of blinds and draperies. Whatever you select, with the assistance of an experienced design professional, you can be sure that your choice of custom window coverings will be perfect.
Contact Us for Custom Window Coverings in St. Louis
At Charlotte's Custom Draperies, we always strive to provide personalized service to all of our clients. Every project is overseen directly by our owner and designer, Paulette De Clue to ensure you are completely satisfied. If you want to explore further the option of custom window coverings, contact us today at (636) 467-8295 to learn more. We are always excited to hear from new clients, so do not be shy!