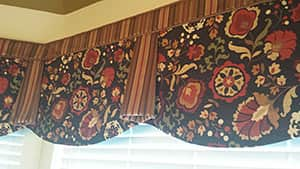 At Charlotte's Custom Draperies, we are very proud of the relationships we have developed with our past and current customers throughout the St. Louis area. We strive to deliver personal service and focused attention to meet and surpass each of our clients' needs. One of the best ways to tell if our clients are more than satisfied with our products and services is to read or hear what they have to say. Our clients consistently provide positive feedback and five-star reviews, and we are proud to share these with you.
Read the reviews below provided by local St. Louis area customers for our custom draperies and window treatments to learn more. When you are ready to experience the same fantastic customer service and personal attention that so many others have raved about, contact Charlotte's Custom Draperies today online or give us a call at 636-467-8295.
Reviews from Angie's List
---
Review Date: May 2016
Linda – Chesterfield, MO
I recently had the pleasure of working with Paulette at Charlotte's Custom Drapes and Blinds. Paulette made drapes for my dining room and drapes for the sliding door in my kitchen as well as a valance for my kitchen window. I have to say, Paulette is very talented and she is able to see things others cannot. She is extremely knowledgeable about design and makes sure everything is coordinated. Paulette arrived with the installer and they proved to be an amazing team. She made sure everything was properly hung and she had Jim make adjustments until every pleat hung perfectly. It was clear to me, she settles for nothing but absolute perfection. Her drapes are so beautiful I must redo my kitchen and dining room to match the beauty and elegance Paulette has created in these two rooms. If you are looking for excellent workmanship and a trustworthy individual, give Paulette a call. You won't be disappointed!!!
---
Review Date: April 2016
David – Foristell, MO
We have a downstairs media room that has floor to ceiling windows that look out onto our koi pond. The downstairs foyer is also adjacent to the media room. Because of the light – we were only able to use our media room after dark. We asked Paulette to give us some suggestions – we wanted to be able to completely darken the room while still being able to have the wall of windows open when we were not using the projector. Paulette came up with a great design and the ideal fabric selection. The drapes were installed yesterday and it is perfect. When they are pulled back they clear the windows and the foyer – and when drawn shut they completely darken the room. The entrance to the room is through the gap where two panels come together and this really creates a cinema atmosphere in the room. We love it!
---
Review Date: February 2016
Christine – St. Louis, MO
Paulette was wonderful to work with. She determines the style that the customer likes, and has excellent suggestions to accomplish a beautiful look. Paulette double checked everything to ensure a perfect product. The final product was perfect.
---
Review Date: September 2015
Kathryn – Pacific, MO
The window treatments are very unique and well made. She took care and handled the entire project with care and pride in her service and work. The window treatments are "one of a kind", and we are very happy with them.
---
Review Date: July 2015
David – Imperial, MO
Excellent service – we had very specific tastes and needed a drapery professional who understood how to construct drapes for a home like ours. Did a great job – excellent workmanship and installation. Always prompt, professional, courteous and fun to work with. VERY patient with us as we were extremely particular – with an Architect/Designer as the homeowner she did very well!! A very expensive job due to the sizes and number of our windows – and her pricing was competitive.
---
Review Date: April 2015
Chuck – Lake Ozark, MO
When Paulette came to my house for the first visit I was so impressed. I had sent her pictures and she had already spent a lot of time thinking what material and design would work for my home. Paulette was very professional and helped me come up with a design and fabric that would work well for my home for many years. On the day of installation her and her installer were very professional and thorough and took their time to get the job done right. She made sure that everything was hanging properly and that I was happy with how everything turned out. The quality of the drapes is very good and I know these will last me for a long, long time. She has wonderful taste and a vast knowledge of design. I would highly recommend Paulette.
---
Review Date: March 2015
Philip – St. Charles, MO
I can't say enough great things about Paulette! From the time I contacted her, she has been responsive and punctual in all correspondence and appointments. She was so patient with me, as I kept asking for more fabric books, or told her I was going to look in some fabric stores myself, and she answered any questions I had along the way. I chose a fabric, and she kept me posted on her progress on them. We set up an installation date, and again, she and her installer arrived right on time. I LOVE the finished product!!!! Her attention to detail, and her craftsmanship is amazing! The draperies add so much to the room, my husband came home and was quite pleased also. Paulette is very personable, I enjoyed spending time with her!
---
Review Date: March 2015
Margaret – Kirkwood, MO
Paulette did a wonderful job of designing and was successful in filling my needs for updating both rooms for the project. She had many samples to choose from and was able to help me create a great color scheme for the rooms. Everything was delivered at the time that she had said that they would be delivered. She is a great interior designer and I would recommend her to anyone that asks.
---
Review Date: December 2014
Karen – Wildwood, MO
She is very knowledgeable, professional, and timely. The results were excellent and I would definitely use her talents again. Paulette is very easy to work with, and I would highly recommend her.
---
Review Date: December 2014
Linda – St. Charles, MO
If you're looking for someone with loads of ideas and loads of patience, you've found her. Paulette is knowledgeable about her work and is willing to help you make decisions. I knew what I wanted but found it difficult to make a decision to bring it all together. I'm not kidding when I say she was patient. It was something like, "can I see that other one again," or "could you go back to the book on the bottom of the pile and show me those again?" Needless to say, I'm very pleased with the outcome. The four season room looks exactly like I wanted it to and the actual custom draperies are perfect. Finally, someone who knows what they're doing! I'll be using her services again right after the New Year for my bedroom.
---
Review Date: October 2014
Ann – House Springs, MO
The owner, Paulette is extremely personable and wants to ensure you get what you want for your home. She doesn't push her own design, though is very helpful in providing her professional feedback to help you make the best decision. She follows through — if she says she will get back to you on something (fabric availability, hardware options that might be more cost effective etc.), she does. She is very reliable when she takes an action item for a request you have. When choosing a design and fabric, it can be overwhelming and as a homeowner it's typical to change our minds about something. Paulette is always professional, and never gets annoyed with the change in direction, –she wants you to be happy with your purchase. I am thrilled with how beautiful everything turned out. She is a perfectionist and it shows in the detail and quality of her work. Every time I come home and see my window treatments, I get happy all over again! I would highly recommend Paulette and her company. She is personable, reliable, and will do an outstanding quality job for you. I will definitely use her services again in the future.
---
Review Date: September 2014
Gary – Dardenne Prairie, MO
We had a very good experience with using Charlotte's Custom Draperies and Blinds. Paulette contacted us promptly to set up an appointment to visit our home. She requested that we send her photographs of our home so she could gain an idea of our style and color scheme prior to visiting. This was very helpful as she came with selected books, samples and styles that we could review upon the first meeting. She spent time with us and was not rushing us during the initial visit. Because we could not decide immediately on what fabric we wanted, she left us books to review at our leisure. When we made a decision, we provided he the fabric we wanted and she promptly provided us a quote for the job based on the fabric chosen.
Once the fabric arrived and the valences and roman shade were completed, we were called to set up a convenient installation date. Paulette is very particular to insure installations go well and uses only one installer. Both Paulette and the installer arrived at the time specified to install the draperies to ensure we met their quality standards.
We are very happy with the final product, the installation and the entire process from beginning to end with Paulette and Charlotte's Custom Draperies and Blinds. The final product is much nicer and higher quality than we would have gotten using pre-made draperies and the cost was only slightly higher. The new draperies complement our home and we are very pleased.
I recommend that you contact Charlotte's Custom Draperies and Blinds if you are considering quality draperies.
---
Review Date: June 2014
Leslie – St. Louis, MO
Paulette is extremely knowledgeable, thorough and has an excellent eye for detail. She's also very professional, timely and accommodating with her clients. I so enjoyed working with her and would highly recommend her for any custom window treatment job.
She has a large selection of fabric to choose from. She was extremely patience while assisting me in my search for just the right selection of fabric for our windows.
---
Review Date: May 2014
Leland – Saint Charles, MO
We are very pleased with the shades. She and her installer always arrived on the agreed time. She made excellent recommendations for our needs and budget. She accurately measured, ordered, and installed the shades as promised. Overall, excellent service.
---
Review Date: May 2014
Sheena – St. Louis, MO
Paulette was professional, punctual, and a pleasure to work with. We had an initial, thorough conversation on the phone about the rooms we wanted window treatments for — what the rooms looked like and what styles we might be interested in. She arrived on time for both of the in-home consultations, and brought lots of samples and photos for us to look at and select from. The bid that she provided was clear, and she was able to do all the work within the timeframe she gave us. Installation was efficient and the window treatments all look fantastic.
---
Review Date: March 13, 2014
Leslie – St. Louis, MO
Paulette De Clue came to my home on the date and time arranged, bringing a large selection of fabrics from which to choose. She made helpful suggestions concerning color and weight of material. After making my choice she fully explained the costs involved which I felt were reasonable.
I was contacted when the work had been completed. Paulette and her assistant hung the draperies in a very efficient and professional manner and I could not be more pleased with the results.
---
Review Date: November 2013
Marsha – Ballwin, MO
The owner, Paulette, was very prompt in arranging a free in-home appointment at our convenience. She arrived at almost the EXACT time set and brought with her a wide selection of fabrics, that were focused on her perception of our preferences based on our telephone conversation. In addition, she had a great idea book of her completed projects to help determine how we might want to dress the Family Room window (which is three double hung windows wide).
After we determined, with her guidance, the style we wanted to go with, she assisted us in the fabric selections. We went with linen panels at the two ends, and a sheer fabric in between. Next was the decision on how to hang the treatment, what type of pleating would work best and finally the specific color and style of hardware. I am NOT an artistic person and never would have been able to navigate all of this on my own.
The next day she emailed a quotation. It stated her business terms of half down and the balance on delivery. My only question on the quote was the oversight of the Angie's List discount that was advertised in our Angie's List monthly magazine. When I asked her about it, she said "absolutely, just take it off the quoted price, sign it and mail it back with the deposit check" which we did.
At the end of the promised 6 weeks time that she had estimated, she called to set up a delivery/installation time. Everything was set, and then I had a scheduling conflict, so she arranged to come earlier. Her installer likewise came earlier than originally planned and they did a magnificent job. The custom drapery rod was cut on site, and the panels fix beautifully. I was so pleased that I gave her another job on the spot.
I highly endorse Charlotte's Draperies to everyone-including my next door neighbor. I am thrilled with this window treatment and pillows. When my daughter saw my "NEW" Family Room she said that it looks like it was "finished" by a display home decorator.
---
Review Date: September 2013
Kenny – Chesterfield, MO
We had cornice boxes (2 small, 1 very large) that needed to be shortened down, along with curtains that needed to be hemmed up.
We had previously had her make some Roman shades to match those we already had.
When she returned with the completed work, it was fabulous. You could not even tell that they had been reworked (they had the same fabric and cording, only reworked). Her team re-situated the curtain rods, re-hung the curtains and reinstalled the cornice boxes.
With regard to the Roman shades–they matched perfectly!
---
Review Date: July 2013
Elizabeth – Saint Louis, MO
Beautiful! It was a pleasure from start to finish, and I am enjoying the beautiful new fabric window treatments in my sunroom. Paulette was a true pleasure to work with and picked up on what I liked and disliked. She made suggestions but went with what I wanted. Has a great sense of style. Her estimate for how long the project would take was accurate. The treatments turned out stunning. I am very happy and would recommend.
---
Review Date: July 2013
Joan – Kirkwood, MO
Paulette is wonderful. She was willing to use what I had, and she offered great ideas to rework the drapes. The curtains look great on the French doors, and I am having matching drapes made for another window. I highly recommend this company.
---
Review Date: June 2013
Gina – St. Louis, MO
Paulette is great! She spent adequate time getting to know me and my "likes and dislikes". She was full of ideas and stuck with it until I was certain of our choices. The installation was completely painless. She is very professional and creative. I love the "one stop shopping" with Charlotte's. Paulette designed, manufactured and installed the entire project. She handled the window treatments as well as the hardware. The end result is exactly what I wanted. I am very happy with her services and will recommend her to others.
---
Review Date: May 2013
Robert – Wildwood, MO
Paulette was very prompt in returning phone calls and an appointment was set up within days of the initial conversation. A detailed estimate was also provided and all work perfomed within the agreed upon time frame. Paulette was on site during the installation to make sure all details were followed through with her installers. After the work was performed, Paulette, the installers, and I walked through each room to make sure everything was correct before she would accept the final payment. Overall, it was a very great experience and I will certainly recommend Paulette.
---
Review Date: March 2013
Carla – Collinsville, IL
Paulette was very helpful and patient. Her prices were very good for custom made curtains. the install was very quick. i love them so much, just what i wanted! they fit perfect, no problem, she worked with me via email for over 4 months, finally met, drew plans up and walla, the curtains were done, it exceeded my expectations. she is very friendly and i now consider her as one of my friends.
found her on the internet
contacted via email numerous time
sent me samples
set-up time to come to home – drew up request
ordered drapes
delivered and hung
---
Review Date: May 2012
Chris – St. Louis, MO
It was a great experience from the initial contact until installation completion. Paulette was very responsive after my initial contact and came to my home to bring material samples and provided a quote within a day or two after our meeting. She was very helpful with selecting a design and explaining to me what the end result would look like. Paulette was professional from start to finish. Even though she was short-handed she still completed all of the window treatments and pillows in less than 7 weeks. This is less time that estimated by other drapery companies that provided similar quotes. I would highly recommend Charlotte's Custom Draperies to anyone needing these services. I love the finished product and the price was much more reasonable than other quotes received.
---
Review Date: April 2012
Mary – Saint Louis, MO
Paulette De Clue of Charlotte's Custom Draperies worked with me to design window treatments and pillows for one of the guest bedrooms in my home. When I met with Paulette, I didn't really have a very clear idea of what type of fabric / design that I wanted. I was really only able to verbalize that I wanted the finished curtains / pillows to be fresh and fun with a little bit of whimsy. Paulette walked me through the process of looking at and selecting fabrics. Previously, when I tried looking at fabrics on my own, I always became overwhelmed with the number of colors, patterns and types of fabric. However, when working with Paulette, she was able to help me channel my broad ideas into fabrics for the curtains and pillows that I love.
Paulette is very creative, and presented some very fun and unique details and ideas to work into the curtains and pillows. At the same time, she wasn't offended or put off if I said that I didn't like an idea or wanted to look for another fabric option. She isn't overbearing or pushy, and is very friendly and easy to talk to and work with. My husband and I recently got married, and this is the first house that either of us have owned. So the design process has proven to be a bit overwhelming and intimidating at times. I am very happy to have discovered Paulette. She is very talented and continues to be a great help as I move onto other projects throughout the house. I highly recommend her and her services.
Overall, working with Paulette is an enjoyable experience that yields a beautiful finished product. Paulette is very talented and has a real gift for working with fabrics and colors.
---
Review Date: April 2012
Vicki – St. Louis, MO
The valences were made with high quality fabric with expert workmanship. Charlotte took the time to help me pick out fabric.
She is very professional and has great interpersonal skills. Her sewing skills are exceptional. I would highly recommend Charlotte's Custom Draperies and Blinds. The valences look fantastic in my living room.
---
Review Date: June 2007
Theresa – Alton, IL
She was excellent in all regards. She was very good and knew what I wanted before I did. She matched the fabrics in such a way that it was amazing. She is personable and knowledgeable.
---
Delivering Five Star Service from Custom Drapery Design to Installation
At the start of every project, we offer a personal consultation with each client. At this time, we assist in the selection of fabric, color, pattern and more. One of the things that always comes out in reviews from our clients is the learning process they go through, with a guiding hand and the expertise of owner and interior designer, Paulette De Clue. Whether the creation is custom window treatments, draperies, bedding, or another of the fine items we have available, clients note that our owner/designer walked them through the process and made it clear that she has a gift for working with colors and fabrics.
At Charlotte's Custom Draperies, we also produce each item in our own workshop, another step that ensures our customers get exactly what they want. If there are questions or minor changes during this process, we make sure that the client is fully involved. Clients consistently tell us that this personal focus is one of the most important elements of our professional service.
Charlotte's Custom Draperies – Committed to Our Customers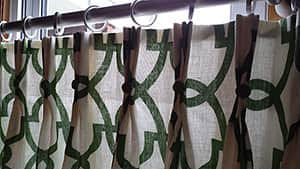 Our unspoken mission at Charlotte's Custom Draperies is to deliver the best service possible through personal attention and uncompromising focus on the client's vision and needs. This is ensured by the presence of owner Paulette De Clue throughout the entire process, from first visit and consultation, through fabrication in our own local workshop, to professional installation supervised personally by the owner/designer.
In fact, our customer reviews also include numerous comments about the professional installation and presentation of their new draperies, window treatments, and bedding. When we begin the project with our first site visit and consultation, our clients are excited about the possibilities and have some definite ideas about the final appearance of their room. In every case, we work together to make that vision become reality.
Contact Us Charlotte's Custom Draperies in St. Louis
At Charlotte's Custom Draperies, we love feedback – we encourage our clients to submit a review on Houzz or Angie's List. It is very important that we understand your experience to continually improve our process and how we handle our customers. If you are happy with your results from Charlotte's Custom Draperies, let us, and others, know about it!
Are you ready to get started on your own interior design or custom drapery design project? In the greater St. Louis area, give us a call at 636-467-8295 or contact us via our online contact form today to schedule an appointment.