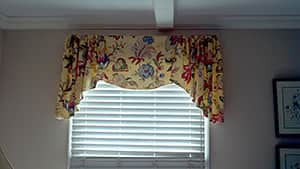 One of the best tips anyone can get when choosing window drapery involves asking the questions: What is my style? What do I want to see and feel in my home? For example, in recent years there is a trend toward modern minimal covering shades instead of a long, heavy fabric. There is nothing wrong with going with what is current or "in", but this decision should be made based on what you, the homeowner, would like to see not just current trends.
That said, it is also important for you to work with an experienced window drapery professional, one who listens as well as provides recommendations. This can help ensure that the final product is matched perfectly with your tastes.
In St. Louis, contact us at Charlotte's Custom Draperies today to learn more about custom draperies and for help selecting the best styles for your room.
Before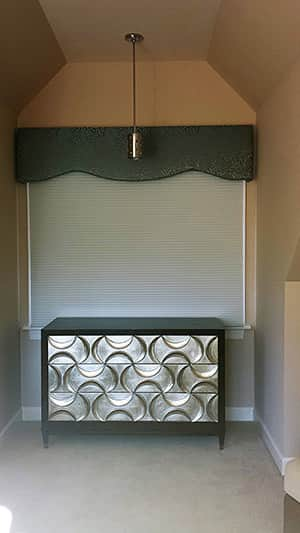 After
Important Considerations When Choosing a Window Drapery Style
Window Drapery Color Choice
A huge consideration when selecting window drapery involves color choice. This should be influenced by wall color and other items and furniture in your room as well as the overall look you are trying to achieve. Color palettes can be tricky to choose, and are constantly going in and out of style. Therefore, you will often want to discuss this element with an expert to help you decide what will work best in your specific situation.
Window Drapery Texture
While often overlooked, the texture of the fabric you choose will also play a large role in the overall look and style of your room. You may consider window draperies with natural fibers for a more casual appearance or fabric with a definite texture to create a dramatic effect. Additionally, satin and silk textures as well as fabrics with a sheen tend to create a more elegant look.
At Charlotte's Custom Draperies, we can help you by making suggestions and recommending fabric options to help you accomplish what you envision.
Window Drapery Form and Function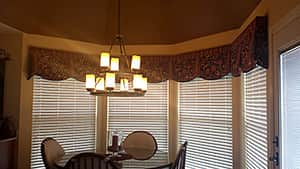 Finally, and often most importantly, you need to consider the form and function of the window drapery. While window treatments are a design and decorative element in your home, they also tend to serve a specific purpose as well. Whether this is providing privacy, obstructing an unpleasant view outside while allowing in light, or blocking light and heat, window drapery can serve many purposes.
The header style you choose will be a major element in both the appearance and function of your window drapery, and we can help you decide which header is right for your project. If you plan to open and close the drapery regularly, perhaps you should consider a French or Euro pleated drape to allow for easy movement. If the draperies will be stationary much of the time, you may want to consider the use of tuxedo or goblet pleats or a rod pocket design. Options such as double pleats, grommets and pencil pleats each provide a unique look.
The choice of hardware is also a key factor in the look and function of window drapery. We have a wide range of hardware styles available, including finials, rods and rings, motorization and more.
Learn More About Choosing the Best Window Drapery for Your St. Louis Home
If you are looking for help planning custom drapery and window treatments for your St. Louis home, our experts at Charlotte's Custom Draperies can help. Find out how we can help with your window drapery project by calling us at (636) 467-8295. We are always happy to provide expert advice on custom draperies and show you how our services can help make your stylistic vision come true.