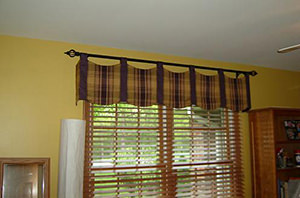 Charlotte's Custom Draperies offers a range of products and services that many consider the best available in the greater St. Louis area. From custom window treatments and draperies to upholstery and custom bedding, we do our best to make sure your stylistic vision becomes a reality.
To learn more about window treatments and the other products and services we offer and to work with us to begin designing your custom draperies, contact us today!
St. Louis Window Treatment Experts
Windows are naturally eye-catching fixtures in any house, as they let in light, sounds, smells, and the breeze. Custom window treatments are a great way to accentuate these key fixtures in your home while adding functionality to provide privacy or block unwanted heat and light when needed. Stylish blinds or shades matched with the right drapes can easily make a bold statement or tie a room together. Whatever your vision is, we can put together custom window treatments that will make it a reality.
More than Just Window Treatment: Our Complete Services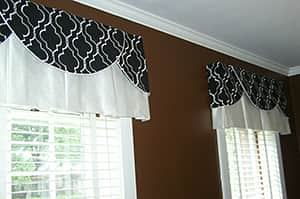 In addition to being St. Louis window treatment design experts, we can also custom design and create a variety of other fabric elements for your home. Our services include:
Custom Bedding – From decorative pillows to comforters and bed skirts, we can create all types of custom bedding to complement the look and style of your room. Like any window treatment project, the selection, fabrication, and installation are all overseen by Paulette De Clue, our owner and designer.
Custom Upholstery – We offer custom upholstery services for the discerning client to help tie your space together even more. Whether you want to breathe new life into an antique chair, or customize a newly purchased piece of furniture, we can bring your vision to life!
Custom Blinds and Shades – If you are planning on having us craft custom drapes for your home, why not bring it together with custom blinds and shades. We can create fabric  shades, and we also sell hard options like those from Hunter Douglas, Graeber, and Kirsch.
Ceiling and Wall Coverings – One of the areas we are quite proud of involves ceiling and wall coverings, which, like our other products and services, can add immensely to the atmosphere of a room or even complete that room. Our ceiling and wall coverings help ensure that no matter where you look in your home, your unique taste and style is expressed. Ask us about our innovative ideas for the ceilings and walls in your home.
Interior Design Consultation – If you are starting a new project and are not sure where to start, we offer interior design consultation. Whether you would like advice on the placement of current furnishings in your home or you are looking for help selecting fabrics, we have had many clients that have said our experience with fabrics and colors made all the difference in their plans.
Make Your Window Treatment Vision a Reality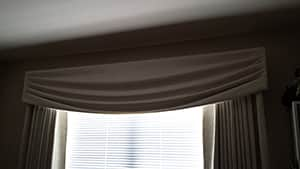 When we speak with a client for the first time, we sometimes hear that they have used or considered ready-made curtains purchased from a retail outlet. While this is certainly a personal decision, we do try to help them understand how much custom window treatments will add to the appearance and value of the home. Custom-made draperies are physically fuller than most others.
In addition, the choice of colors and fabrics takes the idea of draperies to a whole new level.
If you are ready to begin a new window treatment project or just need help putting the final perfect touches on an existing one, contact us today! Throughout the St. Louis area, call us at (636) 467-8295 to share your ideas and talk with us about your custom drapery and window treatment projects.